Brahma Temple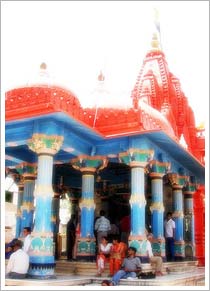 Brahma Temple, the only existing temple in the Universe dedicated to Lord Brahma, the creator of this world, is situated in the holy city of Pushkar. It is located on the banks of sacred Pushkar Lake. It was built in marble in the fourteenth century. Inside the temple, silver coins and the beautiful silver turtle facing the shrine draw attention. The area surrounding the silver turtle is studded with silver coins presented by the devotees with the name and the date of birth and death of their dear ones etched on it. The legend goes that once when Lord Brahma was looking for a place to perform a yagna, the lotus flower in his hand fell on its own in Pushkar and hence this place was selected for yagna. But due to the absence of his wife Goddess Saraswati, Lord Brahma married a maid Gayatri as the presence of husband and wife is necessary for performing yagna. Then both of them performed the yagna. Later when his wife Saraswati came to know about it, she cursed Brahma that he would be worshiped only in Pushkar and nowhere else in the world.
Erected on a raised platform, Brahma temple has a red roof in the form of a pyramid. The main entrance of the temple is decorated with the image of Hans (the vehicle of Lord Brahma).The sanctum sanctorum has a beautiful four faced image of Lord Brahma with both his consorts, Gayatri and Saraswati. The temple also has images of peacock, the vehicle of Saraswati, the goddess of Knowledge and wisdom.
Thousands of devotees flock to the temple during the Kartika Purnima which falls in October-November. The famous Pushkar fair is also held during this time. It is believed that a dip in the holy lake can wash away all bad karma (sins).