Lake Pichola Udaipur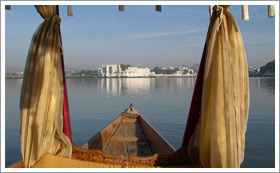 'If the Venetian owned the Pichola (lake) he might say with justice, "See it and die". These were the golden words written by Rudyard Kipling, an English author and poet, in the praise of Pichola lake. This Lake is the most enchanting in Udaipur, Rajasthan. It has mesmerized people from far and wide. It is one of the destinations of Udaipur which must not be missed by any tourist coming to the city.
It is said that the construction of Lake Pichola was initiated by either a nomad or a grain carrier in the 14th century. But it was completed by Rana Uday Singh. The source of water for the lake is a stream from the western mountain. The lake is surrounded by several palaces, temples, havelis, hills and many bathing ghats. It stretches to 2¼ miles in length and 1¼ miles in width. One interesting thing to notice about the lake is the point where both the banks of the lake meet. Here a bridge has been made whose architecture is really beautiful.
Lake Pichola is dotted with several islands where awesome palaces and pavilions had been built in the past. Jag Mandir and Jag Niwas are the most attractive architectural pieces on Lake Pichola. Mohan Mandir and Natini ka Chabutra ( raised platform) are the other attractions on the island flaunting their own charm. This chabutra was built in the honor of a natani (tightrope walker). There is a story attached to its construction. Once Maharana Jawan Singh (1828-38) was drunk and committed to a natani that if she managed to cross Lake Pichola on a tightrope he would give her half portion of his kingdom Mewar. However, she tried it with all her might but could not manage it and died by drowning in the lake.